Overview
When Pulse is used with Agresso, Projects share some attributes with Agresso (eg Project Name) and have some have additional attributes that are required by Agresso (eg. Branch).
When creating an Agresso Project the values are first set in the Pulse Project and then in the newly created Agresso Project.
After a project is created, if you need to change one of these shared values, you need to lodge a Project Amendment Request.
This article will identify the values which are shared between Pulse and Agresso, and describe the different types of Project Amendment Request.
Depending on your Office and instance of Agresso you may not see the all the different Amendment Types available to select.
How to create a Project Amendment Request
1. Go to The Project Amendments Page
To find the Project Amendments page hover over the Summary Actions button: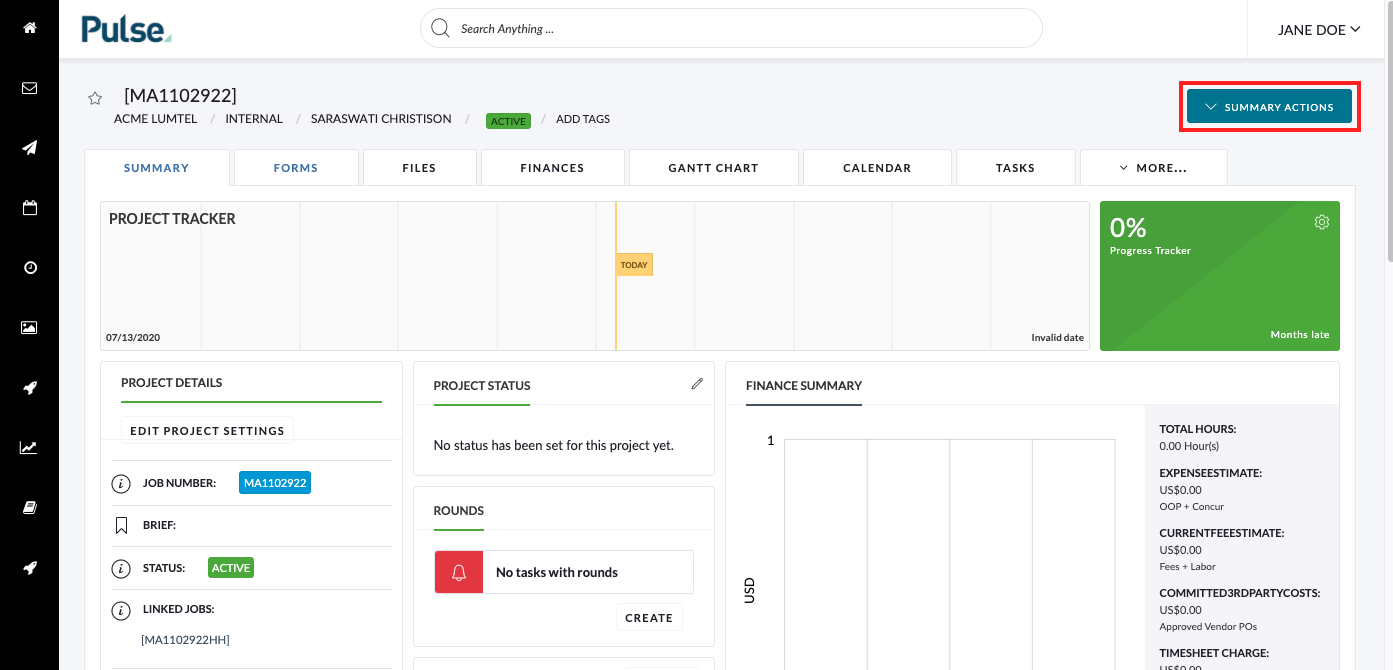 Then click "Project Amendments".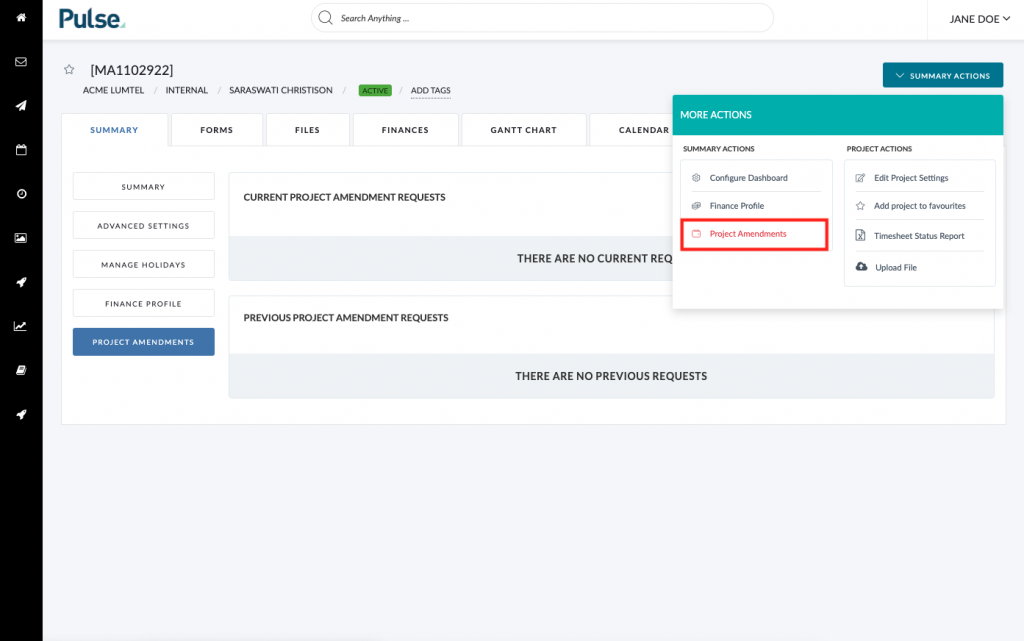 This will take you to the Project Amendments page.
2. Click the "Create New Request" Button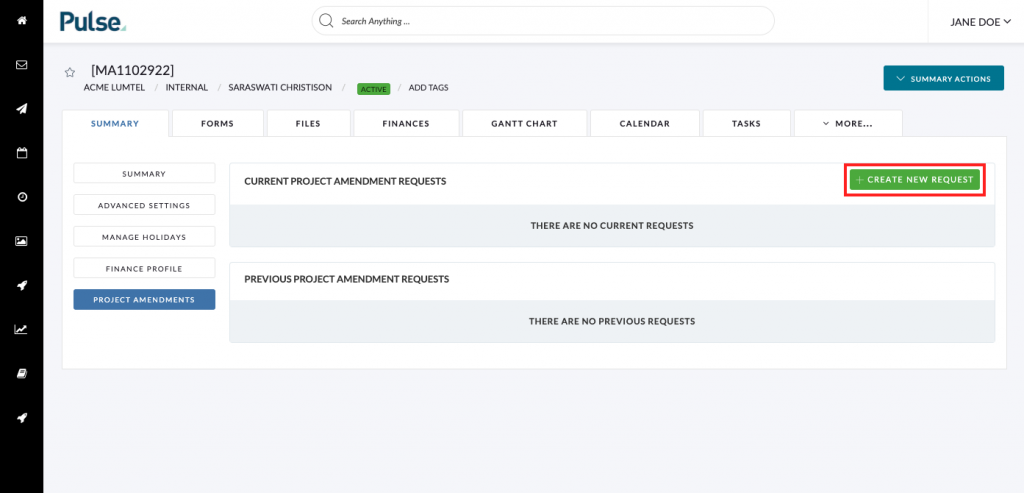 3. Select the type of Project Amendment Request you Require
There are many different types of Amendment request that may be used to modify values shared between Pulse and Agresso. The kinds of Amendment Request you see in the drop-down list will depend on your Office setup and instance of Agresso.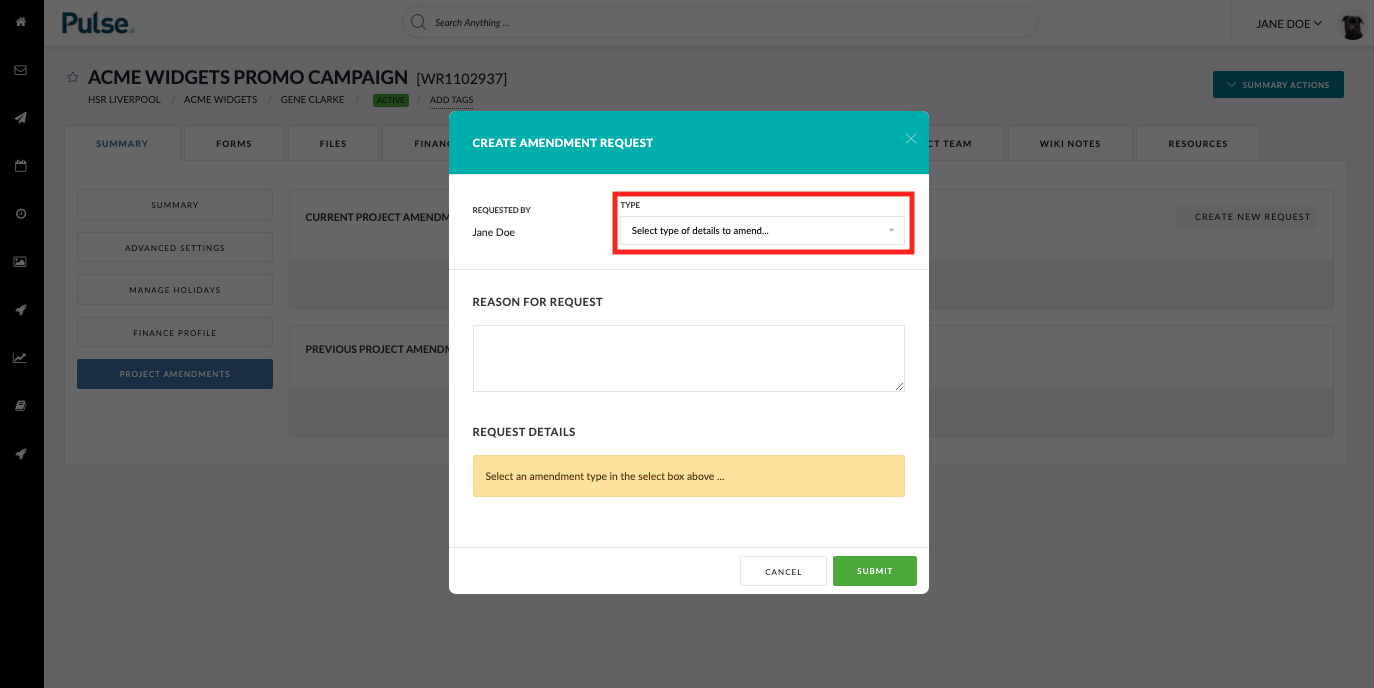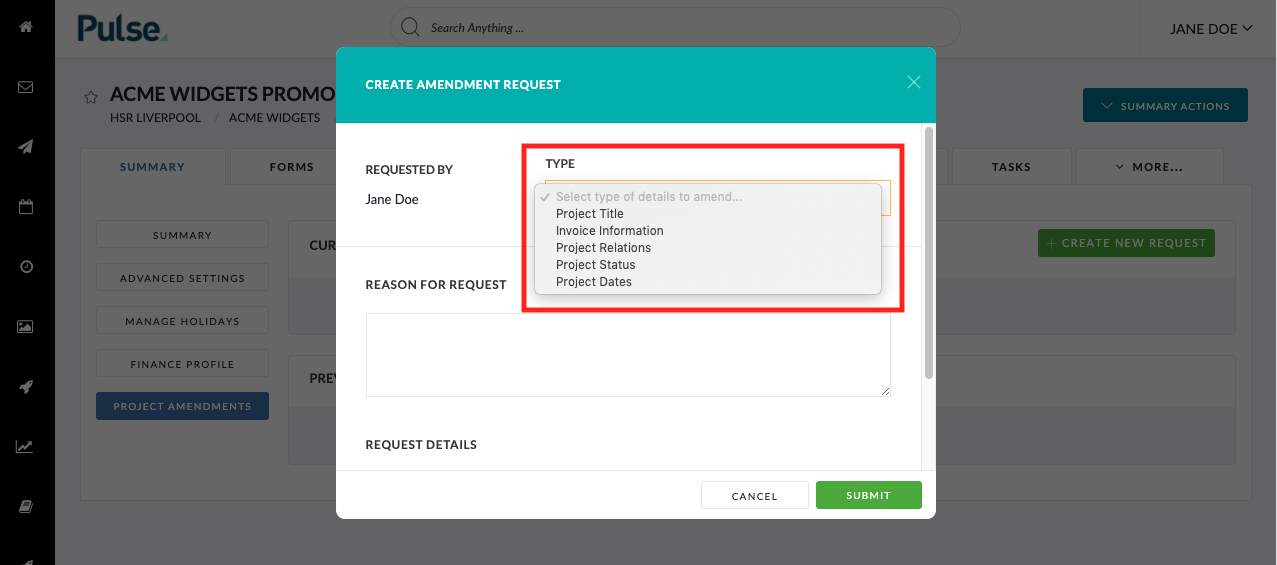 For explanations of how to lodge some common types Amendment Requests please read the following articles:
Viewing previous Project Amendment Requests
A history of previous Project Amendment Requests is shown on this page.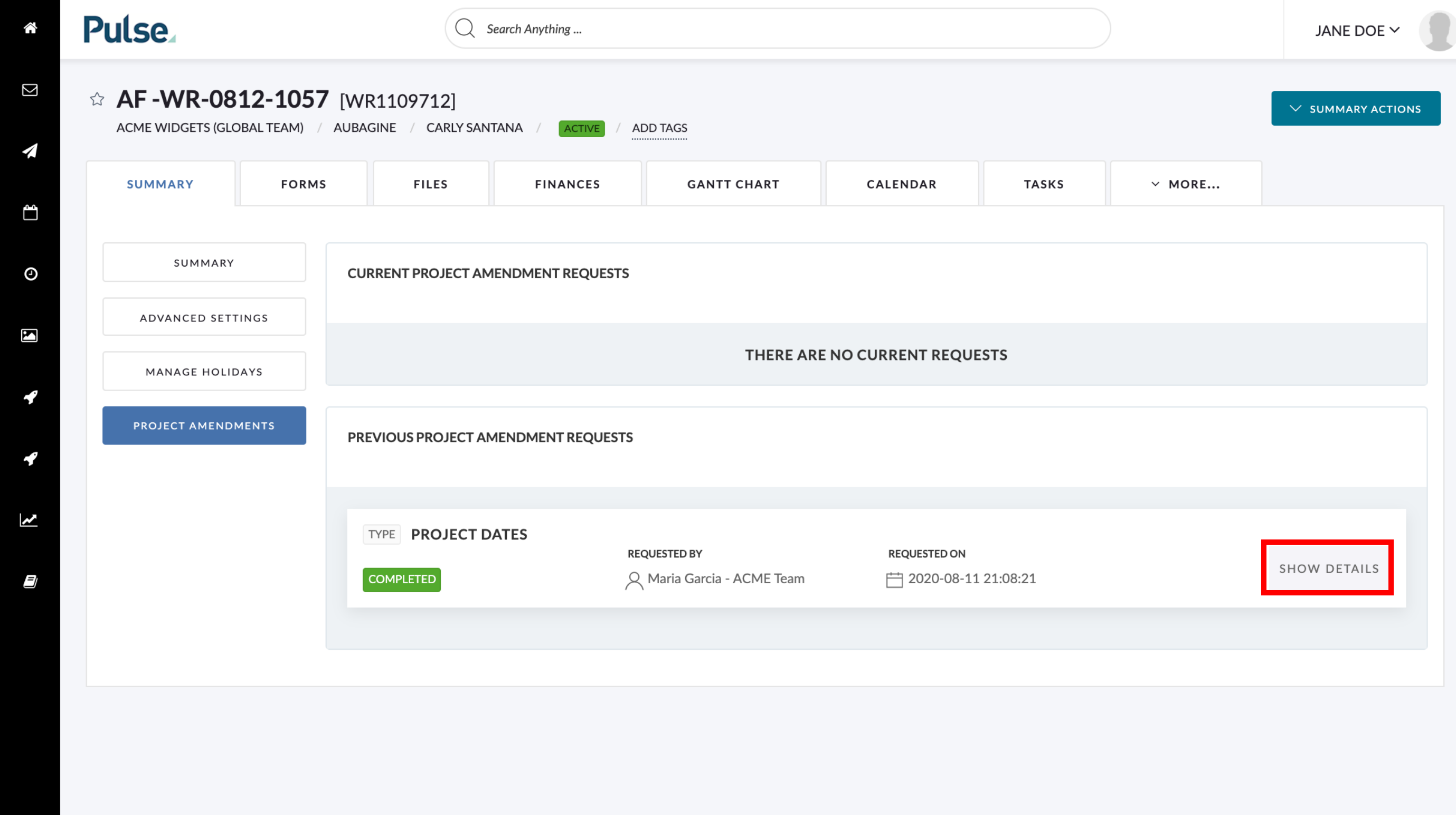 You can click the "Show Details" button to see the details of previous Amendment Requests.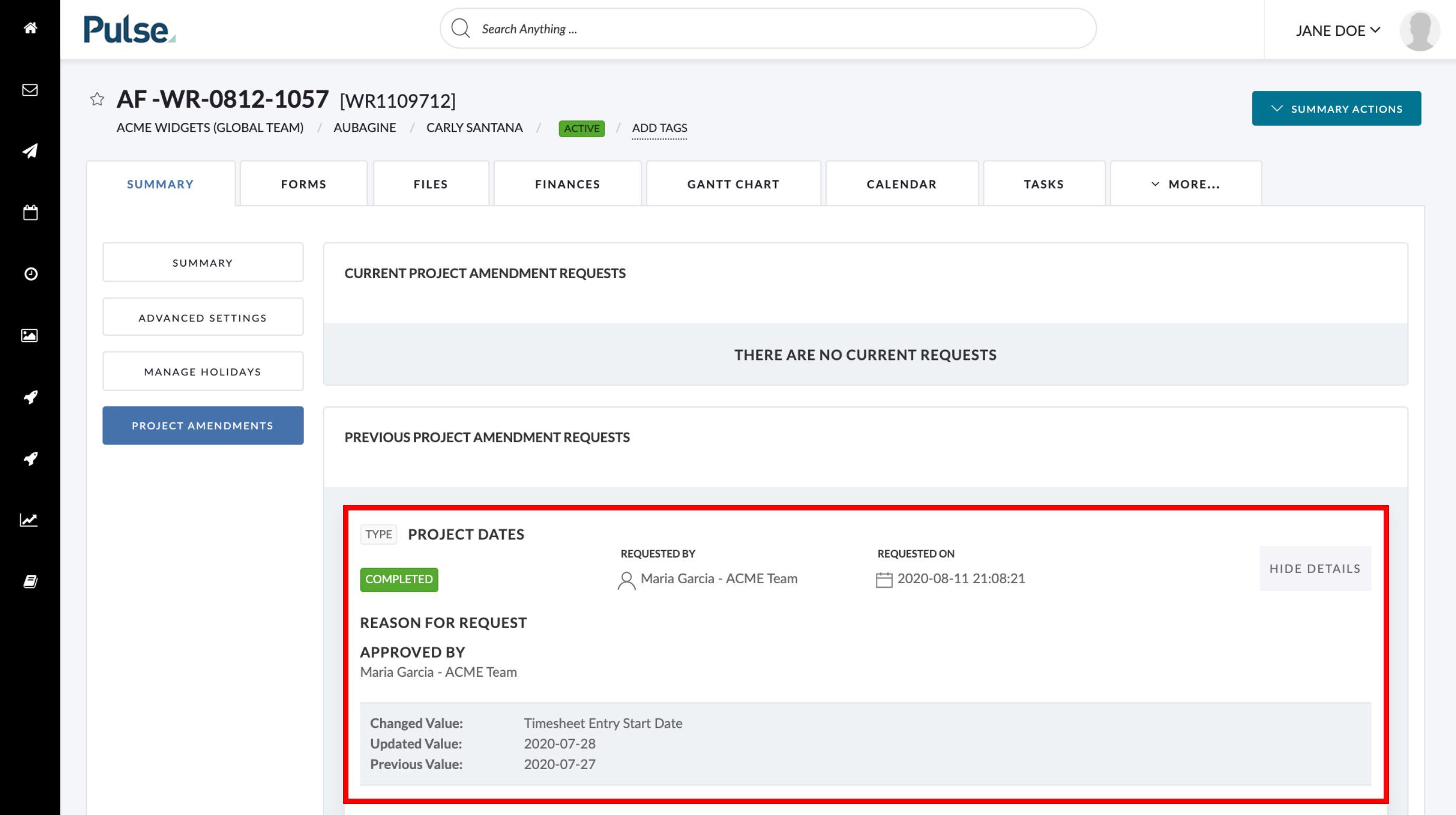 Which values are shared between Pulse and Agresso?
When creating a new project with the Project Wizard, the "Project Title" and the values entered on the "Agresso" step of the Wizard are sent to Agresso when the Project is created.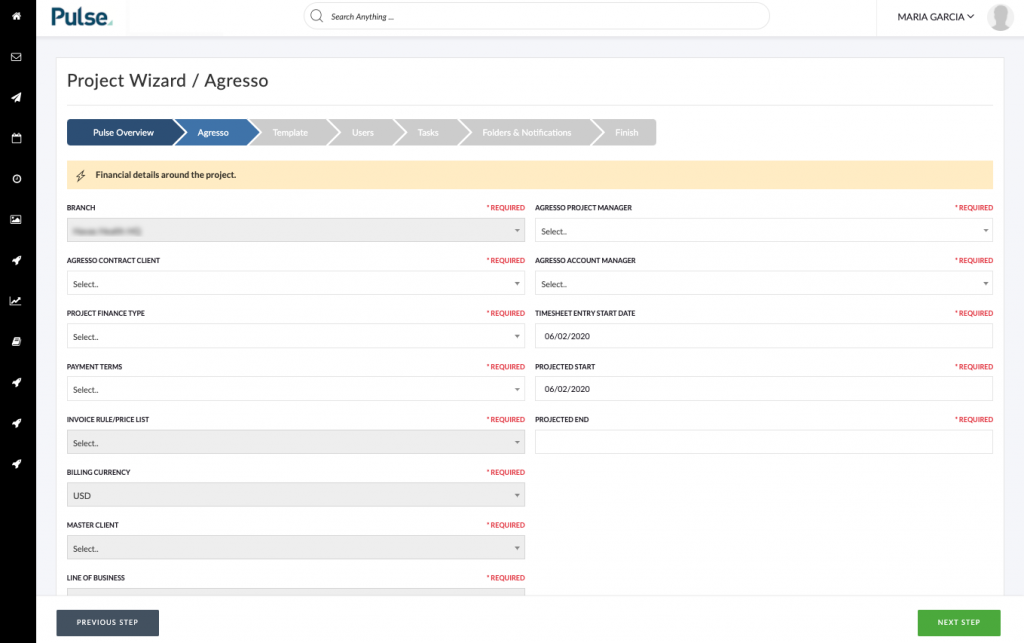 As the values listed below are stored in both Agresso and Pulse and Ammendment Request is required to change the values on both systems.
| Amendment Type | Value |
| --- | --- |
| Project Title | Project Title |
| Project Details | Agresso Contract Client |
| | Branch |
| | Agresso Project Owner |
| | Agresso Account Manager |
| | Job Finance Type |
| | Billing Currency |
| | Exchange Rate Type |
| | Invoice Rule / Price List |
| Project Status | Project Status |
| | Timesheet Status |
| Project Dates | Timesheet Entry Start Date |
| | Project Start Date |
| | Project End Date |
| Amendment Type | Value |
| --- | --- |
| Invoice Information | Payment Terms |
| | Tax Code |
| | Tax System |
| Master Job | Master Job |
| Master Job Budget | Fee Budget |
| | OOP Budget |
| Project Relations | Job Year |
| | Billing Address Attribute |
| | Estimate Funds Check Level |
| | Job Category |
| | Job Sub Category |
| | Master Client |
| | Work Category |
| | Line of Business |
| | Pulse Office |
| | Admin Job (Y/N) |
| | Job Air Date |
| | Legal Entity |
| | Pulse Airing Country |
| | Master Client (Interim) |
| | Master Brand (Interim) |
| | Master Product (Interim) |
| | Fee Classification |
| | Automatic billable project |
| | Brief Country |
| | Type of Work |
| | Account Administrator |
| | Product Group |
| | Project Practice Group |
KB.45111