The Pulse Task Management Software is integrated directly into Pulse and allows you to track each item of work that needs to be completed for a Project.
Tasks can be Managed and Visualised in Pulse through a variety of tools, which are designed to match your style of working – regardless of whether you prefer Agile, Waterfall, Kanban or a just an Old-Fashioned Calendar!
Task Management Software Features
1. Task List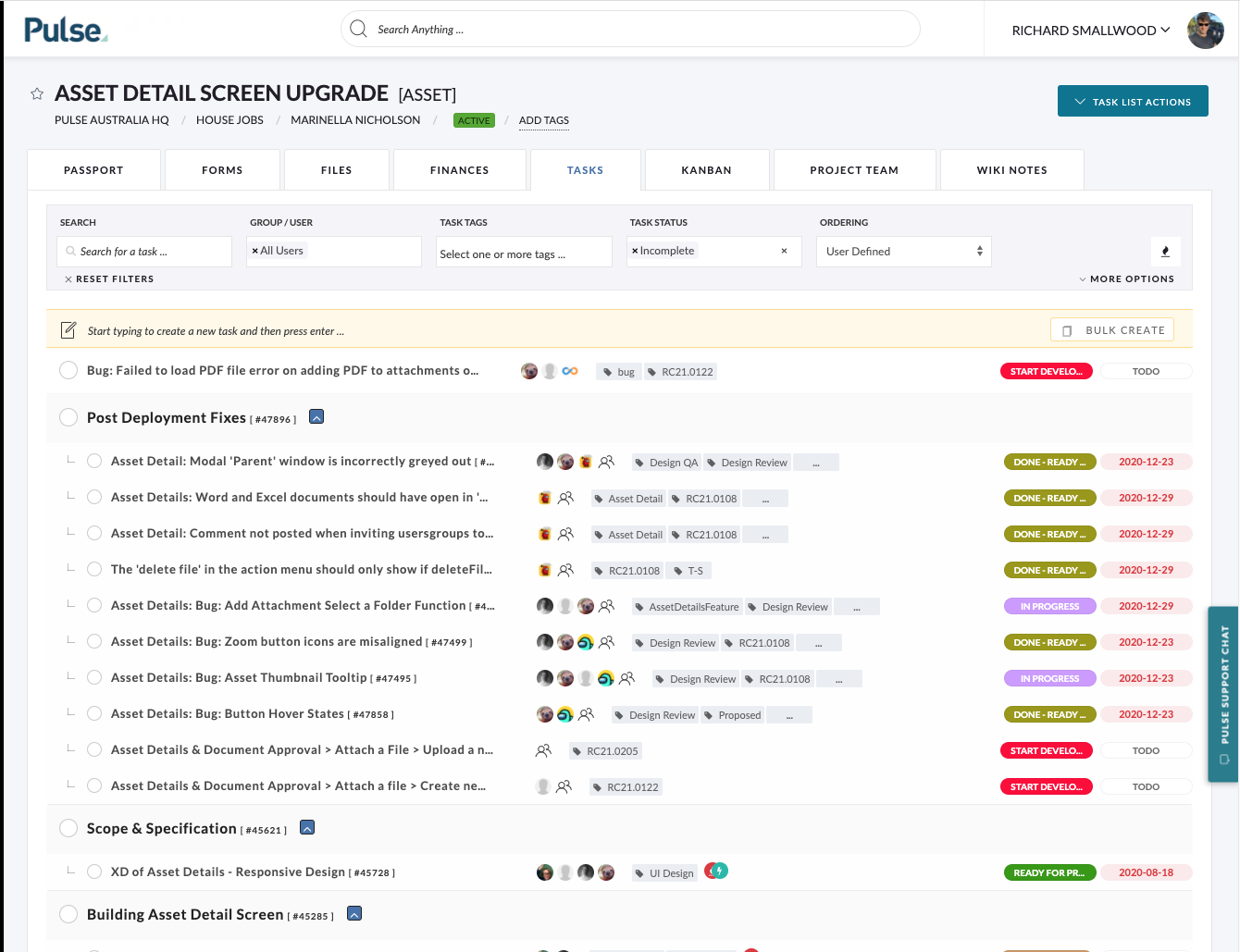 The Task List is how we visualise these tasks, in a table which is sortable and searchable.
Features of Task Lists:
Tasks can be nested up to 3 levels
Tasks can have notes and attachments
Tasks can be assigned to one or more people or a whole group.
Tasks can have start dates and end dates, or they can be left as simple checklist 'To Do' items.
The Task List can be viewed within a Project to track the Project Tasks or can be viewed in the 'Task Explorer' to track & manage All Tasks across the system.
Filters for the Task List include 'My Tasks' (To show tasks assigned to you personally) and 'Tasks Reported by Me' (To show tasks that you have created and assigned to other users).
Tasks can be shown in the sortable List format and also as a Gantt Chart or Kanban Board. (See below).
2. Project Calendar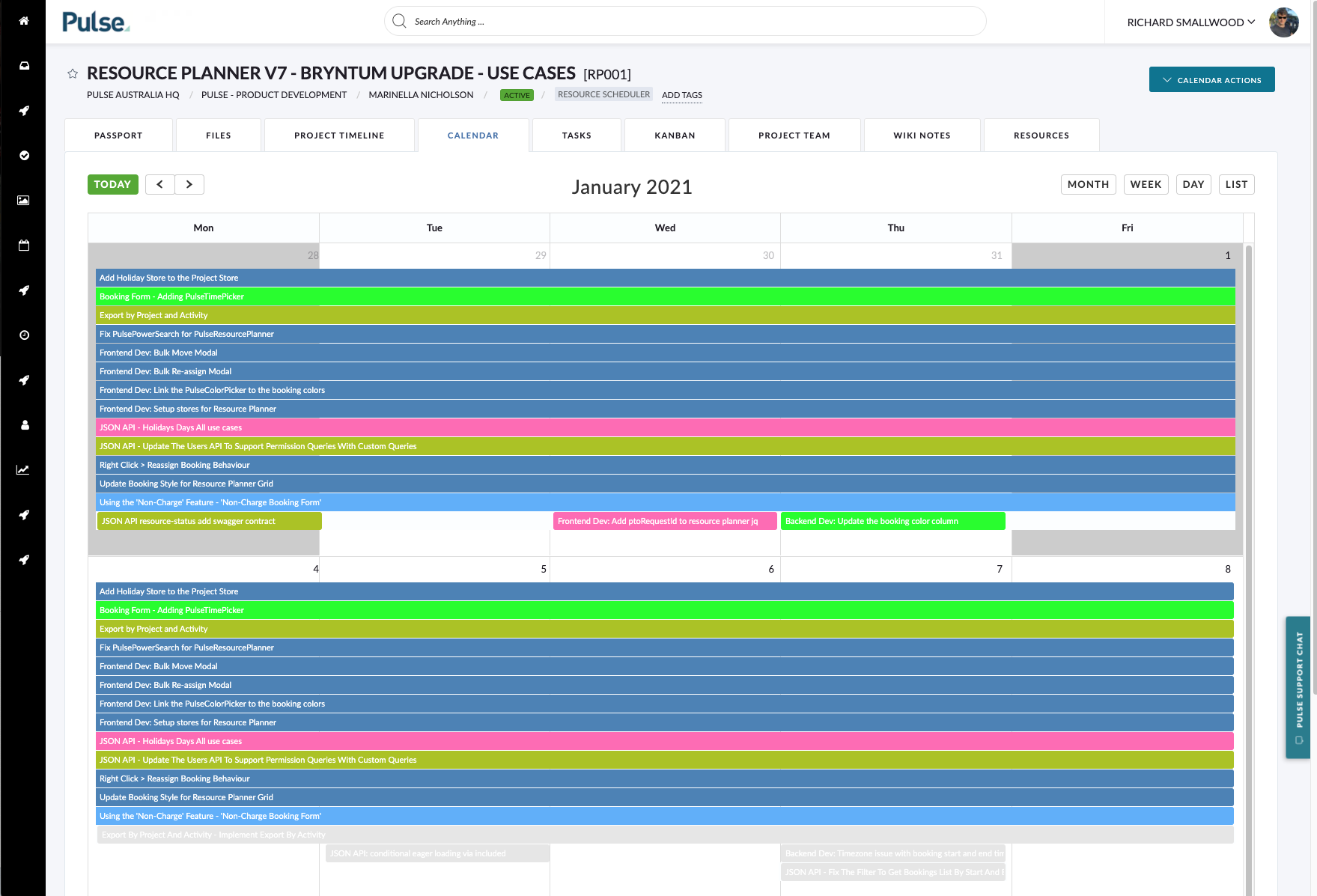 The Project Calendar is an interactive tool that represents Task Timings on a standard monthly Calendar.
The Project Calendar will show all tasks that have a Start Date and End Date  set in the Task List.
The Calendar is interactive, and allows you to drag-and drop tasks to update timings as required.
3. Kanban Boards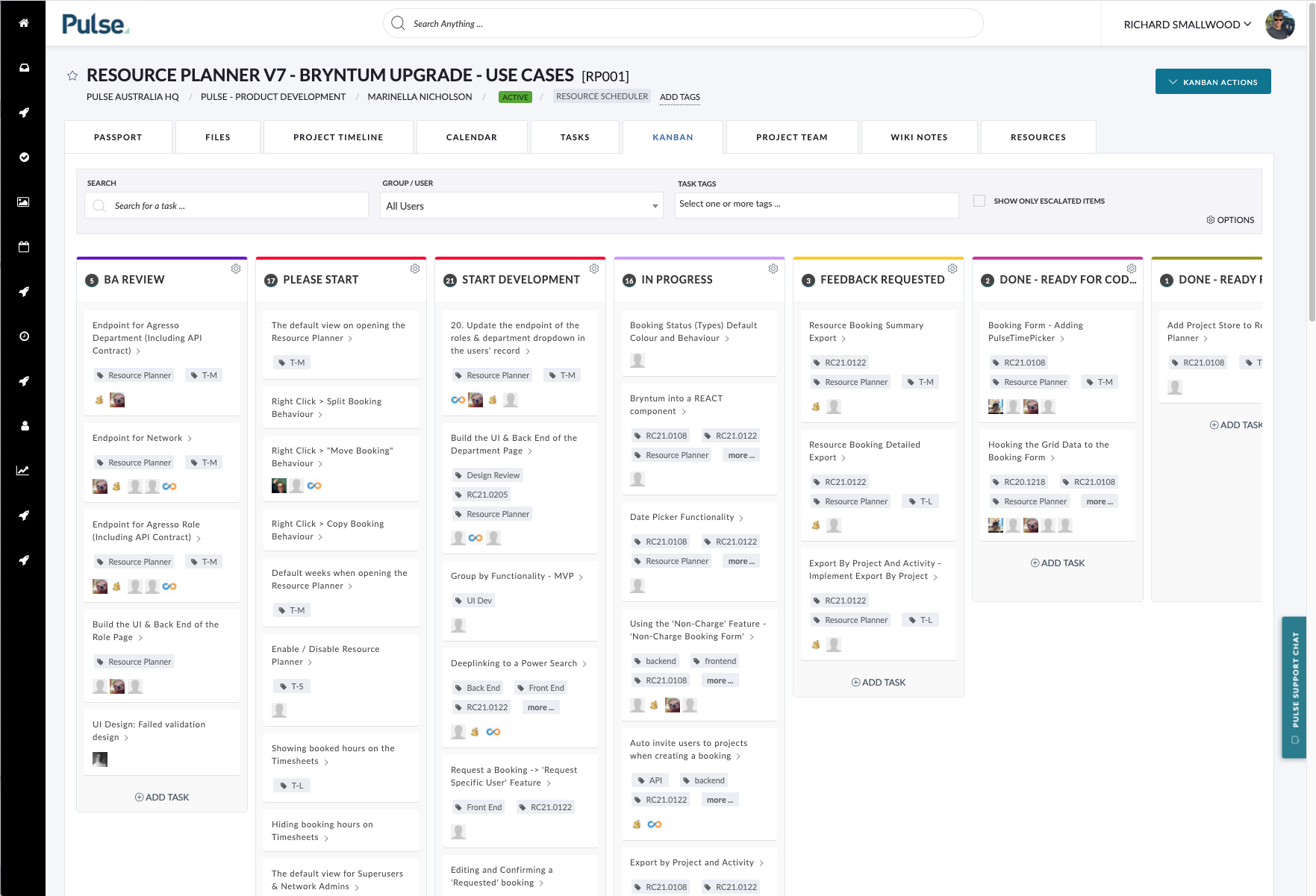 The Pulse Kanban Board is an interactive tool which allows you to visualise and manage Tasks through 'drag-and-drop'.
Perfect for teams using Agile methodologies, the Kanban Board combines the power of the Pulse Task Lists & Project Templates with the flexibility of Kanban.
4. Gantt Chart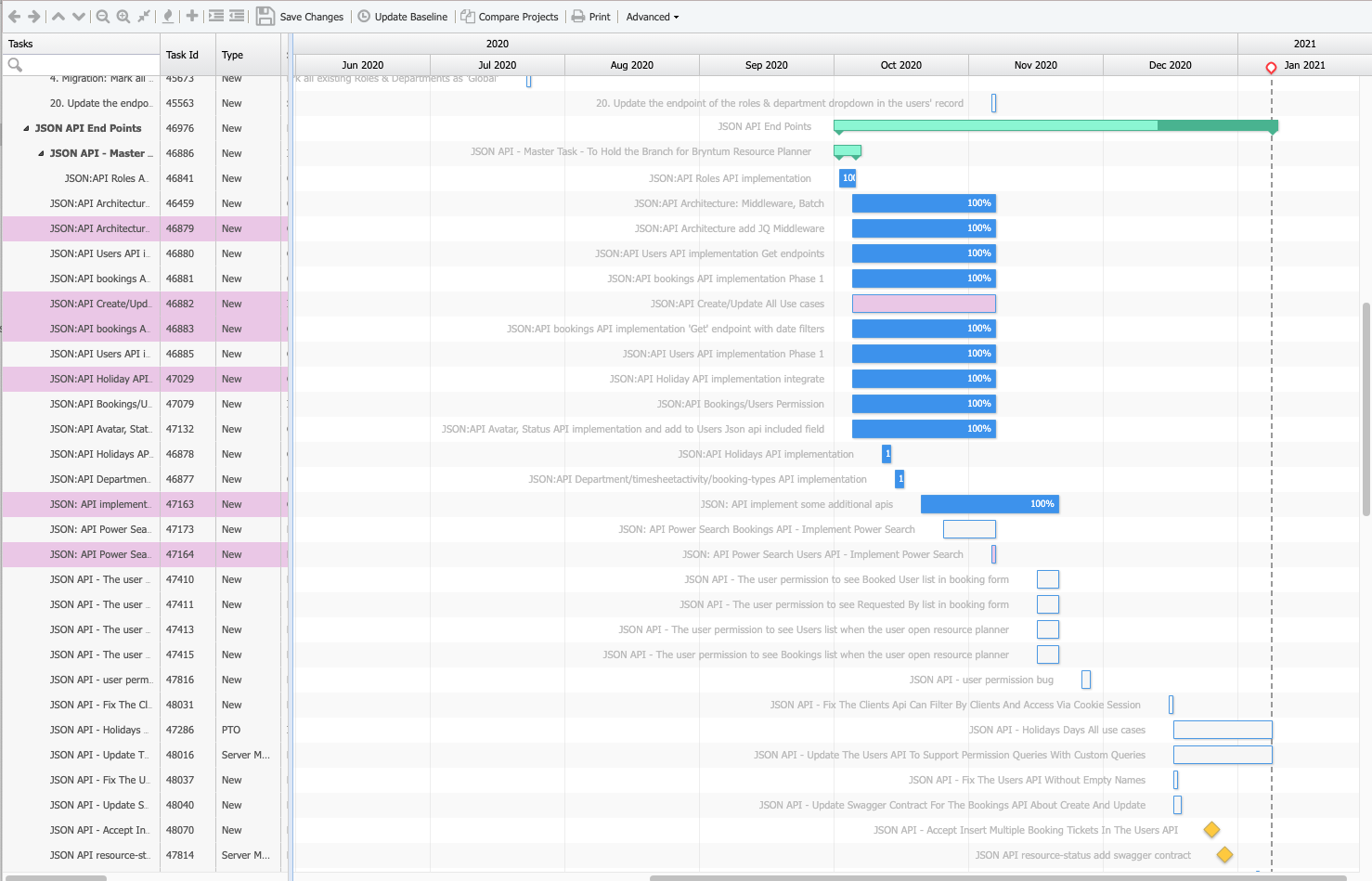 The Pulse Gantt chart is a powerful tool interactive tool which gives you the power of Microsoft Project in the cloud!
The Pulse Gantt loads timing and task data from the Pulse Task List and builds an interactive Gantt view.
The Gantt view is perfect for visualising & managing Task dependencies, timings and status.
Updates in the Gantt chart will load instantly to the Task List and Kanban views.
5. Workflow Automation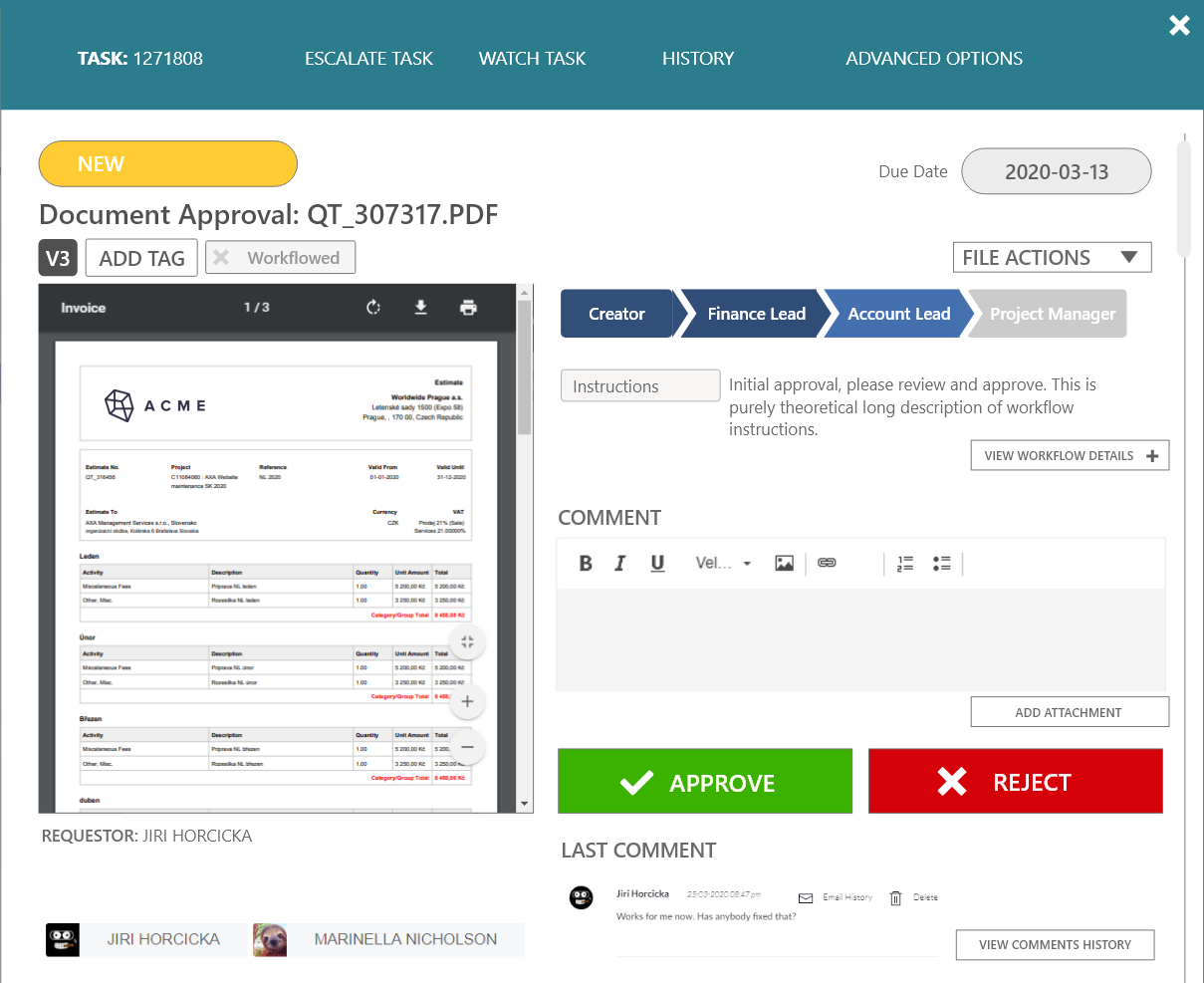 Pulse includes an Advanced Workflow Automation module.
This module allows you to pre-set task routes based on your Project Type and Project Template.
When a task is closed (or updated) the module will trigger pre-defined routes for the tasks, based on the needs of your workflow.
Task Workflow Rules can be used to set Automated Reminders, User Assignments and Document Approval Routes.