1. ALL REGIONS
FEATURES
Disable the existing Gantt tab in preparation for new Timelines Feature launch
Timelines are Coming! We have been working on our new improved Timelines tool for the last few months and it is now deployed. In preparation for the launch of the new TImelines feature, we have disabled the existing Gantt tab.
[#58830] Timesheet Notes and 0 hours causing timesheets to fail
We are saving and submitting 0 hours on timesheets when a user has a note attached to the 0 hours.
This was causing 3 issues:
Failed timesheet processing because we attempt to send the 0 hours to Agresso
Users would see the warning that they have not submitted the day but when they go to the day they can't see what is wrong
Users have 0 hours on the unsubmitted timesheet email
We have made the following changes to rectify this:
Changed all pencil icons to comment icons on the timesheet page
If a comment has been left, the comment icon now becomes a solid comment icon
Clicking on the comment icon or solid comment icon triggers the Timesheet Comment Modal
Users are not allowed to submit 0 hours with a timesheet comment. If this happens a flashcard will appear saying, 'You have a timesheet note saved on a date with 0 hours allocated. Please add hours to this day or remove the note before submitting the timesheets.'
ENHANCEMENTS
[#59500][#59500] FE: Enable 'URL Review' Feature
You can now create URL Reviews using the Pulse Reviews Feature.
[#59627][#59628] Create Round Switching Functionality
We have added the ability to switch "Rounds" in the Review Detail flyout to show information from previous rounds. When the Review detail opens, it will show the current Round information, but previous rounds can be accessed by clicking on the round Dop down.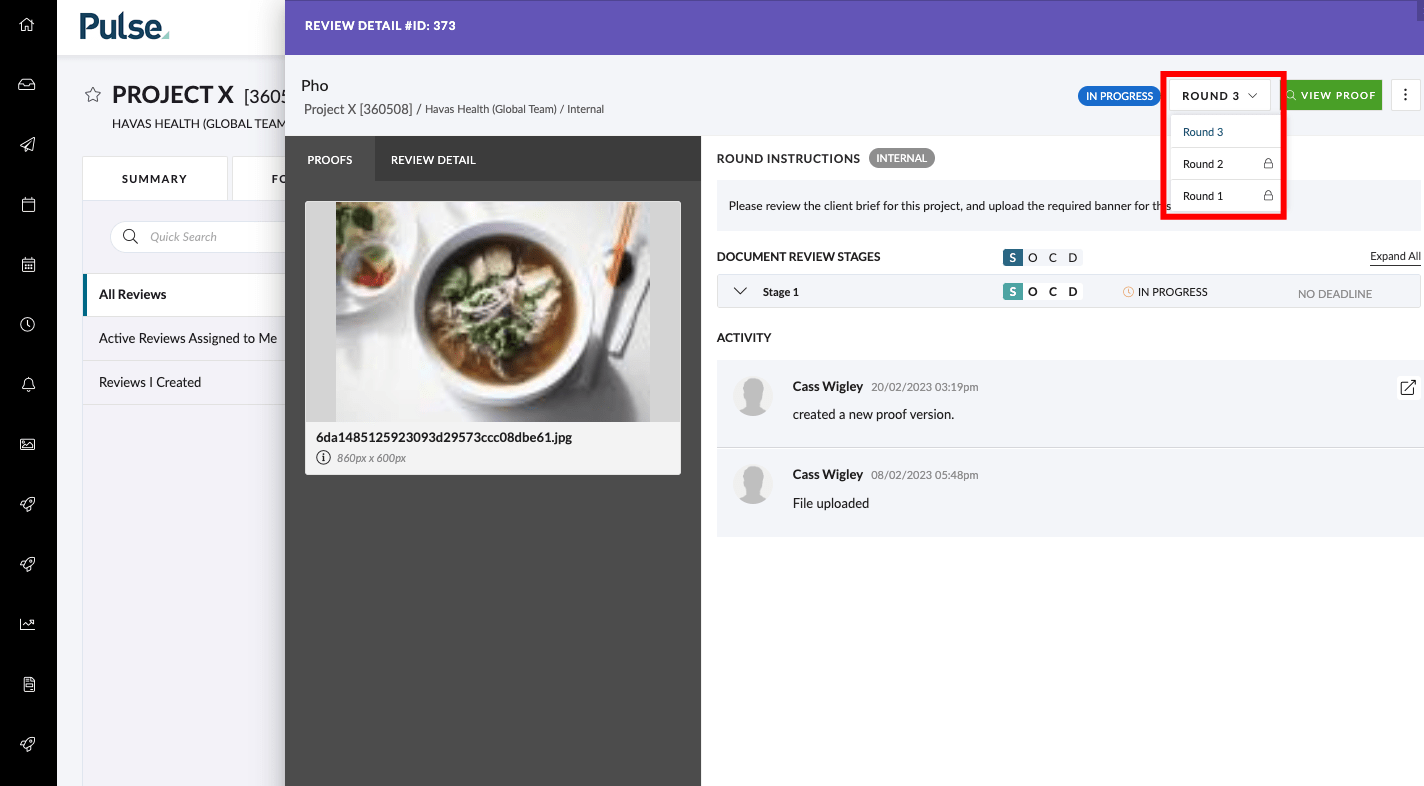 If you open the Review Detail on an older Round, via a deep link – or Refresh the Review Detail after another user has created a new Round – you will receive a pop-up informing you that there is a newer Round available.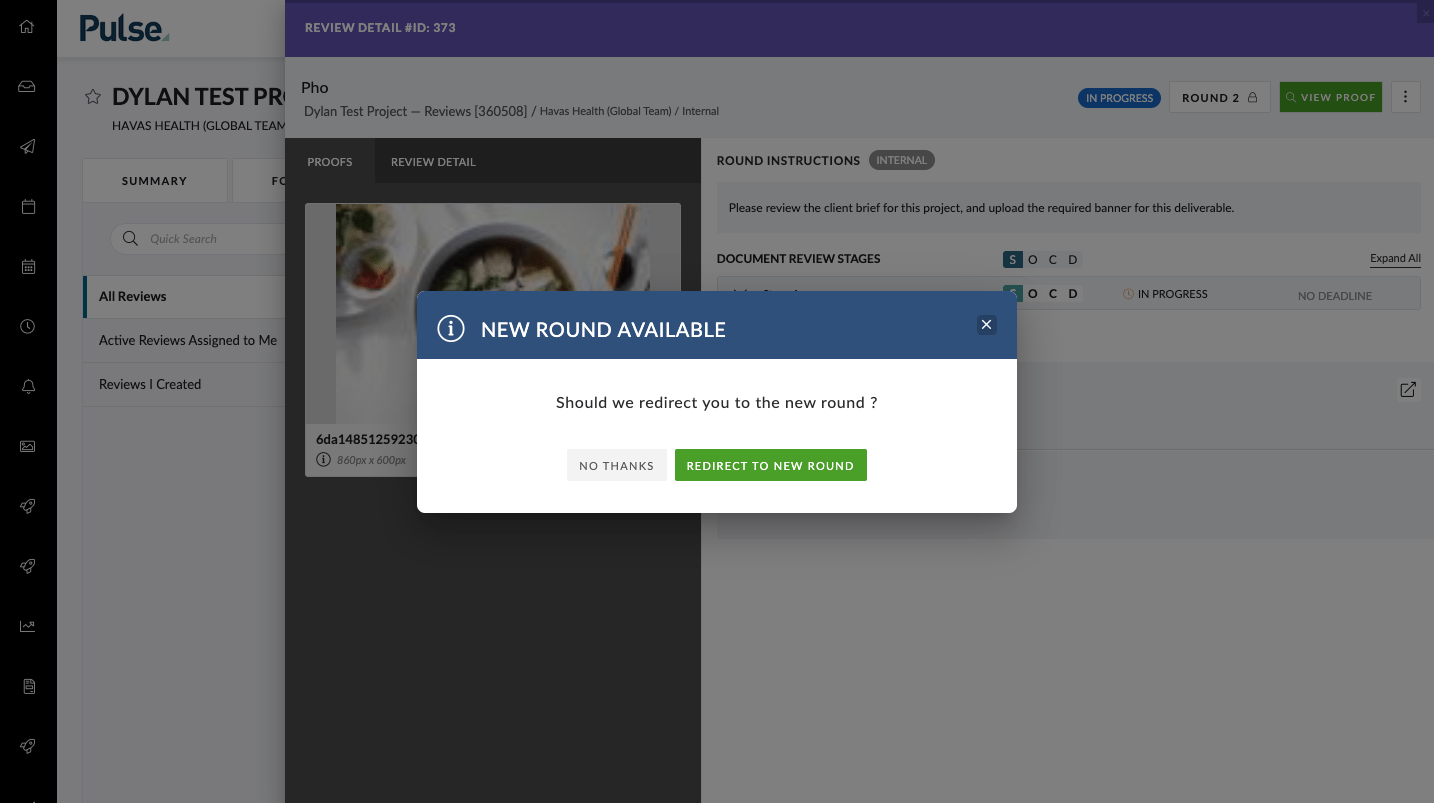 [#58410] Enhancement: Add a flash notification when successfully applying a template
Users now see a notification when they have successfully applied a template.
[#59693] BE: Syncing proof's thumbnail from Ziflow to Rounds
We now Sync a proof's thumbnail directly from Ziflow to Pulse for rounds, instead of using asset's Pulse thumbnail as it is now.
[#59074] Enhancement: 'Lock' Previous Rounds when 'New Round' is created
When a 'New Round' is started for a Review, we now 'Lock' Previous Rounds by:
blocking access to Review Settings for the Round
disabling the Decision drop-down on all the Stages of the Round
disabling the Review Actions drop-down
FIXES
[#58319] Bug: Users receive timesheet lockout email even though timesheet reminders are disabled
Fix – When you turned off the Lockout or the Timesheet Reminder in the Address Book it didn't turn off the Timesheet Reminder Emails (if they were enabled previously). This meant people were receiving emails when they should not be.
[#59941] Review Detail on PROD fails to load data
Fix – Intermittent issue that caused the Review Detail to fail to load data from the external Proofing Tool when changes were made to the Proof by making comments or decisions in either the Review Detail or the external Proofing tool.
[#59840] Bug: Create Brand shows as undefined
Fix – When creating a new Brand for a new Brand Category it shows an error of 'undefined'.
2. NORTH AMERICA (US Instance)
FEATURES
ENHANCEMENTS
FIXES
[#59794] Bug: Invoice Rule not respecting the deleted flag in the Project Wizard
Fix – We were not respecting the deleted flag in the Project Wizard > Invoice Rules dropdown when a user selected a 'Contact Client' in the Project Wizard "deleted" rules could still be selected.
3. EUROPE & UK (UK & EU Instance)
FEATURES
ENHANCEMENTS
FIXES