Introducing a new Specialised version of the Timesheet Status Report for "Parent Projects"!
This report is designed to help make the process of Closing Projects that have "Child-Projects" easier.
The "Timesheet Status Report – Parent" report is available on all "Parent Projects" and will include unprocessed time on all Child Projects.
What are Parent Projects?
Many implementations of Pulse Introduce hierarchical relationships between Projects and Sub-Projects so that a Project can be related to a "Main", "Master" or "Parent" Project. This feature is used in North America Pulse-Agresso who use the concept of 'Main Job', in the UK/EU Pulse-Agresso who use 'Master Job' and Non-Agresso offices who use 'Parent Project'.
The terminology and technical details of how these hierarchical relationships are created are different in different jurisdictions – but regardless of terminology achieve the same result of having on main Parent Project ("Main Job" or "Master Job") with one or more Child-Projects ("Sub-Projects" or "Sub Jobs").
Closing Parent Projects
Part of the closeout process for a Project involves ensuring that there are no "unprocessed" Timesheet Submissions left on that Project. The main tool for finding unprocessed Timesheet Submissions
Offices who use Parent Projects would occasionally run into issues when trying to close Parent Projects because, in the same way, that you cannot close any Project if it has unprocessed timesheet submissions, you can't close a Parent Project if any of its Child-Projects have unprocessed timesheet records. The Project's Timesheet report would only report unprocessed time records on the current Project and not any of its Child-Projects.
Project Managers would then need to run several reports, including one for each of the Child Projects, to find which of the Child-Projects was causing the issue.
Introducing a specialised Timesheet Status Report for Parent Projects
The solution for this was to introduce a specialised version of the Timesheet Status Report that looks both at a Project as well as all of its Child-Projects.
The report is called 'Timesheet Status Report – Parent' and will only appear on Projects that are Parents of other Projects. It exports the same data & columns as the current 'Timesheet Status Report' but will include time from other Projects that are Child-Projects.
This report can be used when closing a Project to find all potential Timesheet errors that belong to the Project and any of its Child-Projects. Agencies can now run a single report and pinpoint the exact User, Time Entry, and Project which is holding up the closing out process.
You will find the report on any parent project in the Summary Actions button.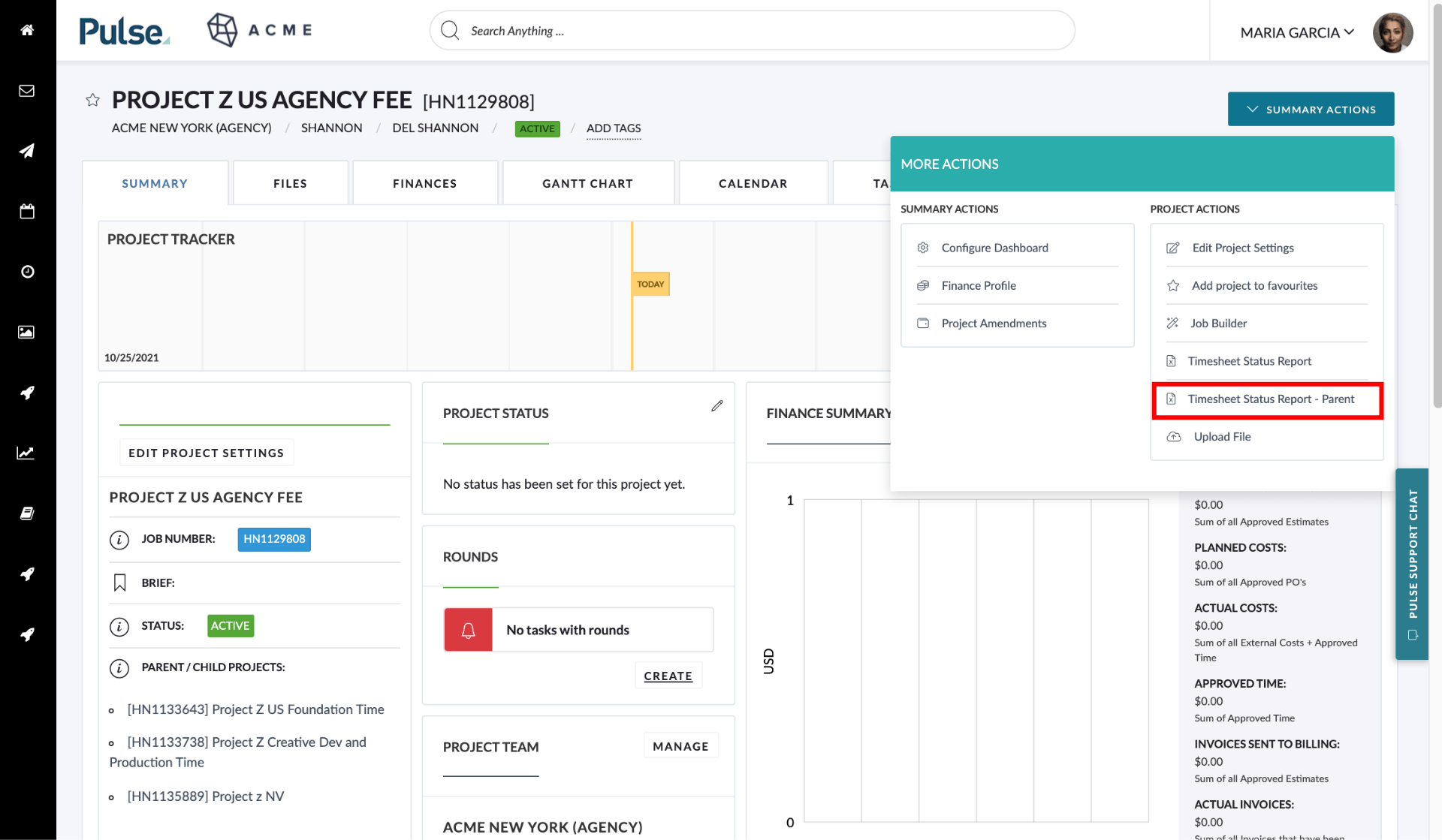 Please Note: This Report Excludes Phantom Jobs